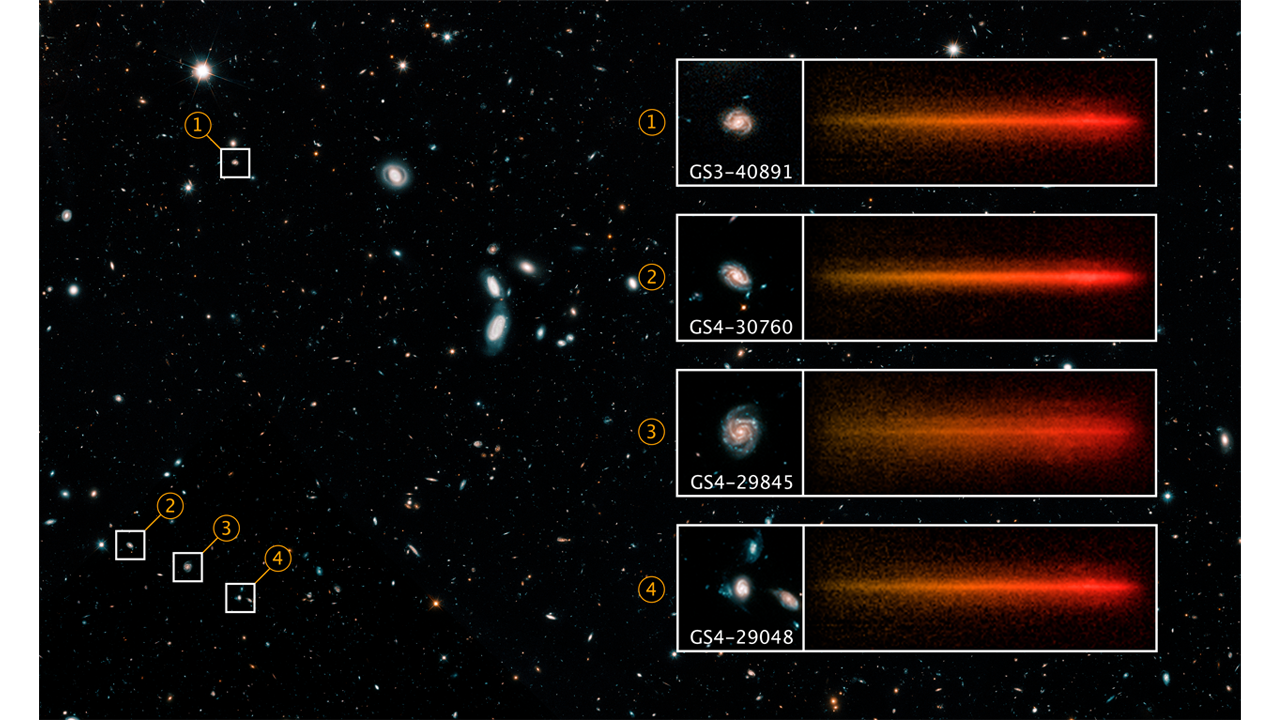 Caption
This Hubble image features four of the thousands of galaxies found within the Hubble Ultra Deep Field. All of the highlighted galaxies show evidence of vigorous star formation (blue regions filled with hot, young stars). In the insets at right, the near-infrared spectrum of each galaxy is displayed. By examining a galaxy's spectrum, you can learn about the ages of its stars, its star-formation history, how many heavy chemical elements it contains, and more.
Upon entering operations in 2027, the Nancy Grace Roman Space Telescope will be able to collect spectra for every object in its field of view, which is 200 times larger than Hubble's in infrared light. As a result, it will enable studies of rare galaxies from a period known as "cosmic noon," when many galaxies went through growth spurts.
Credits
SCIENCE: NASA, ESA, STScI, Casey Papovich (TAMU)
IMAGE PROCESSING: Alyssa Pagan (STScI)

Keywords
About The Object
Object Name
HLF; GS3-40891; GS4-30760; GS4-29845; GS4-29048
Object Description
Deep field with spectra of starburst galaxies
R.A. Position
3:32:29
Dec. Position
-27:49:12
Constellation
Fornax
About The Data
Data Description
Image: The HLF image was created from public archive Hubble data from the following proposals: 9352 , 10189 , 10340 , 12099 , and 12461 : A. Riess (STScI/JHU); 9425: M. Giavalsco (University of Massachusetts); 9480, and 9984 : J. Rhodes (JPL); 9488 : K. Ratnatunga (Carnegie Mellon University); 9500 : H. Rix (MPE) 9575 : W. Sparks (STScI); 9793 , 10530 , and 13779 : S. Malhotra (Arizona State University); 9803 : R. Thompson (University of Arizona) 9978 and 10086 : S. Beckwith (STScI); 10258 : C. Kretchmer (JHU); 10632 : M. Stiavelli (STScI); 11144 R. Bouwens (Universiteit Leiden); 11359 : R. O'Connell (University of Virginia); 11563 , and 12007: G. Illingworth (University of California, Santa Cruz); 12060 , 12061 , and 12062 : S. Faber (University of California, Santa Cruz); 12177 : P. van Dokkum (Yale University). 12498 : R. Ellis (University College London) 12534 : H. Teplitz (California Institute of Technology) 12866 : M. Swinbank (Durham University) 12990 : A. Muzzin (York University) 13872 : P. Oesch (Observatoire de Geneve) 14088: E. Vanzella (INAF) The HLF team members include: G. Illingworth and D. Magee (University of California, Santa Cruz), K. Whitaker (University of Connecticut), R. Bouwens (Leiden University), P. Oesch (University of Geneva), P. van Dokkum (Yale University), I. Labbe (Swinburne University), B. Holden (University of California, Santa Cruz), M. Franx (Leiden University), and V. Gonzalez (Universidad de Chile). Spectra: The Hubble image(spectra) was created from HST data from proposal: 14227 (C. Papovich).
Instrument
ACS/WFC, WFC3/IR, WFC3/UVIS
Filters
WFC3/UV (F225W, F275W, and F336W); ACS (F435W, F606W, F775W, F814W, and F850LP); WFC3/IR (G102, F098M, F105W, F125W, F140W, and F160W)
About The Image
Color Info
IMAGE: These images are composites of separate exposures acquired by the ACS and WFC3 instruments on the Hubble Space Telescope. Several filters were used to sample broad and narrow wavelength ranges. The color results from assigning different hues (colors) to each monochromatic (grayscale) image associated with an individual filter. In this case, the assigned colors are: Blue: F606W (Wide V) Green: F606W (Wide V) and F850LP (SDSS z') Red: F850LP (SDSS z') SPECTRA: The spectra is created from exposures from the WFC3/IR instrument using a grism. A color map from yellow to red is applied to the spectra which corresponds to increasing wavelength.
About The Object
Object Name
A name or catalog number that astronomers use to identify an astronomical object.
Object Description
The type of astronomical object.
R.A. Position
Right ascension – analogous to longitude – is one component of an object's position.
Dec. Position
Declination – analogous to latitude – is one component of an object's position.
Constellation
One of 88 recognized regions of the celestial sphere in which the object appears.
Distance
The physical distance from Earth to the astronomical object. Distances within our solar system are usually measured in Astronomical Units (AU). Distances between stars are usually measured in light-years. Interstellar distances can also be measured in parsecs.
Dimensions
The physical size of the object or the apparent angle it subtends on the sky.
About The Data
Data Description

Proposal: A description of the observations, their scientific justification, and the links to the data available in the science archive.
Science Team: The astronomers who planned the observations and analyzed the data. "PI" refers to the Principal Investigator.

Instrument
The science instrument used to produce the data.
Exposure Dates
The date(s) that the telescope made its observations and the total exposure time.
Filters
The camera filters that were used in the science observations.
About The Image
Image Credit
The primary individuals and institutions responsible for the content.
Publication Date
The date and time the release content became public.
Color Info
A brief description of the methods used to convert telescope data into the color image being presented.
Orientation
The rotation of the image on the sky with respect to the north pole of the celestial sphere.